LEC, bespoke solutions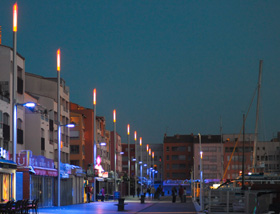 Port du Cap d'Agde, South of France
These huge animated lights - unique pieces imagined by l'Atelier Lumière, now decorate the port of this spa town.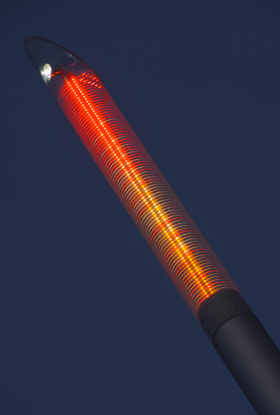 Each project is the result of a design and a collaboration between architects, lighting designers, engineers, local officials, technical services managers, electricity unions, economists, landscapers, installers, etc.
The result of this collaboration is a unique project, unlike any other.

To participate to this project, we bring our expertise, quality requirements, and technical skills. We manufacture exclusively on order the luminaires specified by the designers in order to integrate them into this specific project.
All requirements are analysed by our engineering office which goal is to find the right solution suited to your needs.
This concerted development process allows us to customise the installation which is consistent with the architectural requirements. This guarantes the durability of the installations as well as the compliance with the different regulations.
We manufacture samples on order and make them available to the designers in order to come as close as possible to the actual marking or lighting conditions desired.
Whether you are looking for a specific lighting effect, a unique way of incorporating a light, or an original means of marking or lighting a work, we offer you a specific and customised manufacturing.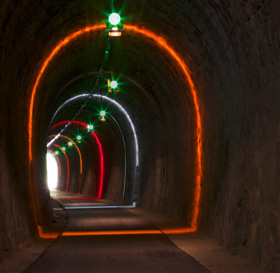 Vigan Tunnel
This Gard region former railway, now turned into a greenway, was transformed by Pierre Negre from L'Atelier Lumière to recreate the atmosphere of the historical rail tunnels.
Two types of imaginative lanterns were made by LEC specifically for this project, which combine lighting for travel, marking for signage, and a special colourful enlightenment to make the journey through livelier.